Journal, 2003



If there are any images inserted, please feel free to click on them to see a larger version that will open in a new window.


Start, Monday 21st July

Well, here I am sitting on the quayside at Calais at 06.45 local time waiting for a ferry back to Dover, having missed one by about 2 minutes. Well, at least it gives me time to write this report. Well, where to start. Ixion@Cadwell, I suppose.

My first race bike ride for nearly 2 years, after my 'bump on the head' and the recovery time. The Triumph (aka 'Big-Un'), my enlarged to 930cc from 750cc triple, had only just gone back together after some major internal detonation damage that occurred while it was being used by Alan Walsh at Rockingham at a CRMC meeting in 2002 during my 'down-time'.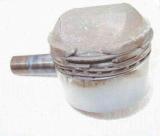 Piston damage after detonation at Rockingham

Two pistons had the be replaced and in fact I fitted a re-designed set of 3, a new cylinder block and cylinder head too. I will recover the old (cracked, and that means the block itself, not just the liner) cylinder for self use on a sprinter or road bike, and the head too, if possible. Lots of welding and re-machining (and of course new valve seats) are required in the 'old' head, so I would only use if for myself, not feeling willing to sell it on knowing its history. It had not run at all hard before Cadwell, but behaved really quite well. I used the first two wet/damp sessions for a little running in, and then I fell in love.

The 750cc BSA was another story. Although I had repaired the fairly minor fairing/tank/master cylinder damage that had been the result of the Lydden July 2001 b-o-t-h get off, I had only run the engine statically, and not made it make any amount of power. Some may say that it doesn't make much anyway, but.......... I had been told that while it was on its side at Lydden it had run for quite a while before the marshals were able to hit the kill switch, and it was running at quite some rev's. I have no memory of this or the two hours before, or 5 days after! Well, it had seemed OK on the many times I had run it, but after about 5 laps of Cadwell it tightened. It had eaten a big-end. Drat. So, parked it was and I continued in all the sessions I went out in on the Big-Un.

Ruffle also had a wobble round on it (the Big-Un) while I went back to the past on his Notrun. Fizzy also got the chance to exercise his right foot for gearchanging. But, back to the story of the BSA. The damage was confined to the crankshaft and connecting rod. Here is one of the great advantages of using a Carrillo rod, in that a failed big-end bearing doesn't cause a rod to break. The piston on the affected cylinder also needed to be replaced, but not because of this failure. It had been overheated at the Lydden meeting (well, it was stinking hot day and the club had run 10 lap races, and I fell at the hairpin on the last lap) and 'sunk' the bottom of the exhaust valve pocket. Some four days after Ixion@Cadwell the BSA was back together with a replacement crank (from my trade stock) and a set of rods liberated from the stock bins. The need was extreme, as my next riding event was just a week after Ixion, and also at Cadwell: Beezumph. Beezumph is a made up name that was coined by the photographer and journalist Jim Greening in an article he wrote a few years before his demise. Made up from the marque names BSA and Triumph it describes the joint BSA Rocket Three and Triumph Trident models as siblings very well, don't you agree.

I took a whole shedload of stuff there. Both my bikes for me and others to ride, a number of 'show' bikes including two Triumph X-75 Hurricanes (including the first of only two that were assembled as pre-production machines at BSA, Small Heath. All the 'production' run was assembled at the Triumph works, as Meriden). I also had two 'for sale' Tridents, one of which had been shipped back from the USA in with my 'Goldmine' stock and the 'magnificent seven' and had needed a full engine rebuild/repair before its American owner could ride it at Beezumph. I also was asked to take my overhead camshaft BSA Rocket Three, which is one of only three known to exist. I was also asked by the TR3OC to do 'marshalling' duties, leading a small pack around from each group on each of the two days of Beezumph. I took my T120 Bonneville to do this, and well it did it too. In all I took nine bikes, and I hired a 7.5 tonne lorry to do this. My Transit (which towed my caravan) was driven by Jerry, one of two American friends who was riding at Beezumph and it was loaded with goodies from the goldmine for sale. As this stock is currently in Lowestoft the trip to Cadwell took a while.

A great event. The Big-Un behaved very very well again. At Ixion it had had a charging fault and I traced this to a failed alternator stator. I couldn't do zip about it at Ixion, but changed the stator and it was cured. A tiny oil leak was caused by a screwed inspection plug coming loose, no sweat. The BSA was rather more of a problem as a distorted gasket behind the primary drive caused an oil leak that needed that side of the engine dismantling to repair. However I had the required pieces in the spares kits that I carry so was able to do the work and get out in some sessions later on the first day, the Friday. It also oozed a tiny amount of oil from one of the pushrod tubes, so in the week post Beezumph this was attended too.

This years Beezumph was aimed at The Hurricane, and the American stylist who has designed the basic bike dressing for BSA, Craig Vetter, had come to England at the request of the TR3OC to talk about the development of the model. The talk was very well presented on the Friday evening, post autojumble. There was a mass gathering of all the Hurricanes as the event on the Saturday lunchtime and I'm sure you will see the pictures in the press eventually. There were about 66 of them there, and over 50 took part in a track parade lead by Craig Vetter (on a Hurricane, of course).

So, a great event for me with through exposure of the goldmine stock and the for sale bikes, but the pressure was still on. Why? Chimay!

I took entries in both the 750cc races (on the BSA) and in the unlimited races on the Triumph (Big-Un). Practice on Friday afternoon was OK, but slow for me. However I was blowing the cobwebs away (well, that's my excuse and I'm sticking to it). A quick maintenance clean and a few tightened nuts (not just mine) saw both bikes ready for the Saturday practice and first race. Practice was rather better and my lap times had improved. The grid positions were generated by the best lap time of the (voluntary) Friday session and the (compulsory if you hadn't done the Friday session, or you were given a back of the grid slot) Saturday session. I was low mid-field in both classes, rather better in the unlimited, IIRC. After these sessions I decided to convert the BSA to a race fuel and made the guesstimate carburation changes. This worked well in the Saturday race as the bike felt a little 'cleaner' and combustion felt more under control. I run this engine at quite a high (for it's type) compression ratio and the combustion chamber shape is poor. The very high octane, and the fuels chemical make up, resulted in better combustion. It will need some dyno time to optimise and prove but already feel better. I had decided in practice that as I was going quicker the overall gearing of the Triumph needed changing and I was going to take off 1 or 2 teeth from the rear sprocket. I didn't do it as too much time was taken helping others with parts or problems, and I went out knowing that if I got quicker that I'd have to watch the engine rev's. Yes, quicker I got and up went the rev's. On about the 4th lap I felt the engine slow, and as I reached for the clutch I noticed the tachometer over 10,000. I had been riding as I had in practice, holding a gear near (over) peak rev's between two corners. This was my undoing as as I reached for the clutch the engine ran freely again but with a loud knock. Ah, a big-end gone to lunch. I heard it knock about 12 times (well, it could have been the piston hitting the head, same effect) before I got to the kill switch and the engine slowed with the clutch pulled in. Drat. I had been thinking about changing fuels in this one too, for the second unlimited race, but no chance now! So that was the end of Saturday.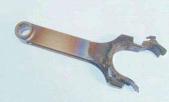 Well, that's the end of that set of shells then

I had another ride in each class on Sunday, and after making the decision not to ride the 750 in the unlimited (not wanting to commit adultery against my new love, the Triumph, with the BSA) I did anyway and had two good low midfield rides.

An overnight Sunday drive which included turning the wrong direction onto an Autobahn and visiting Germany resulted in a long through the night drive back to Calais. So here I am back in England. Yes, a gap in the writing of the report, don't know where. So what happens now ? A bit of work, perhap. The BSA is fine and apart from a basic wipe down with a wet boy scout is ready for use. Tyres OK. Gearing to change before the next race meeting. Inspection within the Triumph today (Monday ) has shown that my seat of the pants diagnosis was correct. The timing side (RH side) con-rod is loose. That piston has been hitting the head and just touched the inlet valve. Seems to be no other piston damage so I'll replace that valve and re-machine the head squish tomorrow. Late morning will expose the crank. It'll certainly need a rod, and I'll fit a set as that means I'll then have some used ones in stock. In the large engine that are 3mm shorter than standard and are specially made by Carrillo to my specification. I have some 8 sets available at date. Until I see the crank I'll not know what I need to do. I have one in the required condition ready to fit, but there is a good chance that the one inside will be either fit For further use as it is, or just require a big-end grind. I heat-treat these cranks but that is done for main bearing life, not big-end life, so if the mains are good then I'm happy to take the big-ends alone down to their next undersize and leave the mains alone. My grinders will do this in a day so that'll not hold up the rebuild.

Why the rush again ? Lydden. 2 years after the CRMC meeting that for me resulted in a year on another planet, it's time for the same meeting. However the racing head is damaged and now lives on top of the fridge, and the Sunday Afternoon Bimble head is in use. So if anyone wants to barrack JdR on his Ducati and I on BSA/Triumph please feel free to make yourself known. I expect I'll be in the company of my Belgian friends, the sidecar team Ledermann. Normally parked on the bottom row of the Paddock, between Gails and the lavatory. I wonder why ? I expect to have my Transit (EF03HMH) and caravan. Although I don't intend to stay at the circuit on the Saturday evening (as home/shower/bed/cats to feed are so close and Sunday at Lydden is a 12.30ish start) the caravan facilities are too nice to give up. So the facility may ba available for helmet/clobber dumping. (Reminder, must take a whiteboard to make 'Kit for Sale' notices).

Apologies for the length of this tale, but I haven't had time to do the write up until now, as you can see life has been a bit hectic. If you read this far, well done! There will be coffee and tea available at Lydden!

Lydden. So: how do I write up a report about what was probably the best weekend of my (racing and motorcycling) life?

Those that have followed the recent saga can miss the next section, but the the poor others: The last few weeks have been a bit hectic, with lots of trackdays and meetings. Two full engine rebuilds after big-end and associated crankshaft failure, and lots of 'can I do this again' thoughts. Ixion was first, followed in order by Beezumph and then Chimay. Now it was time to go back to the 'scene of the crime'. Lydden. It was this weekend 2 years ago that saw me headbutt the track surface at the Hairpin and then live on another planet for a year. A year of further recover saw me enter all sorts of areas of life again, and a few weeks ago it was time for (slightly) competitive motorcycling. So the above itinerary started.

I'd decided to attend CRMC Lydden as my first CRMC event purely as the timing was right. There was no need to lay the ghosts to rest, but if that happened to then that was OK. I hadn't done a formal entry but let the entry sec. know that an entry on the day was possible. I hadn't done the eye-test of ACU licence sorting out either until a short while before. I hadn't even rejoined the CRMC....... Organised I wasn't!. The eye-test stuff was OK, and I took an ACU licence renewal form duly stamped by the optician to Chimay, where the CRMC membership secretary ws riding. He said he would post it to the ACU and contact them before the meeting to ensure a confirmation fax was sent to him so that the Lydden ride could happen. In fact it wasn't needed as the licence turned up here on Friday. They had re-issued at my last level too, a National. Handy for doing some events, as some of the classic special events demand it, as does the pre-TT Classic and the Southern 100. No excuse now then, apart from limited rider ability!

The rebuild of the Big-Un went OK, and it was ready to run in its re-cranked form by 17.00 on Friday. Would it start, would it f#ck. Steve, my 'technician' went home at 18.00, and I continued to play with it. All seemed correct, and I tried numerous ignition system parts, cleaned the carbs twice, changed fuel, checked valve timing (as it had been totally apart) and was just about to give up when I decided to do a plug change. It has run perfectly at Chimay, and the plugs had just been removed and placed in a tray, and refitted. Three new ones and in chimed in first kick. B#ll#cks. So loaded it was at 23.00, with the BSA that had never been taken out of the van after Chimay, and I showered and went to bed. 05.00 I rose and completed the loading and off to Lydden about 06.30. Arrive, greet the Ledermanns, my Belgian sidecar crew, and set camp. Enter the meeting, finish refitting the fairing to the Big-Un, fit transponder brackets, scroot the bikes (well, get the chief Scroot to come to me to do it, useful being an ex club official, I can still pull the occasional favour) and fuel up ready for practice. Sessions 4 and 7 for practice, and all was OK. I went out on the Big-Un first, as I wanted to do a low rev. session to give the new crank a little running in. Just used 7000 for three laps and 7500 for the next three. 8000 on the last lap, and all seemed OK. Nice to learn the circuit again and the gearing still fitted from Chimay seemed really good. Using 2nd to 4th, of a semi-close ratio 5-speed.

Was nice to ride the BSA in the next (and last as it happened) practice session. First time around the Hairpin I was half expecting it to remember and throw itself on its side, but it didn't. Slower than the Big-Un, but it has less power and only a single front disc, instead of two. Gearing seemed OK too so it was all ready for the first (750cc) race. Whoops, I missed it as I had thought it was the second race on the programme, not the first. Going out in the last practice session meant that I should have gone straight round to the warm-up area, but I didn't and missed it. Ah well, it's happened before and I'm sure it'll happen again. There were another seven starts over the weekend so all was not lost. I had already decided that after the first race I would change brake pads in the BSA after enjoying the HH compound ones so much on the Big-Un. So I did this now, and then it was out in the unlimited. A pleasant ride and a low midfield position. A 10 lap race and I believe I was lapped on lap 8.

An hour lunch stop (being a Saturday at Lydden) and a time to relax, socialise and wipe down the bikes. Then the second (but first to me) 750cc ride. All was fine until on about lap 7 (of 10) the front brake lever went soft and started coming back to the bars. It would pump up, but was a little disconcerting. So I pulled off. Looking hard at the caliper and disc alignment I could see the caliper was a little offset and although the inner pad was a loose fit the outer had no rattle clearance. A job for some thin shims. I had always been expecting to come home to Ilford on Saturday evening/night, so I added these to my list of bits to collect, including a few items for other competitors. After a BBQ dinner with the Ledermanns it was home to feed my cats, shower and sleep well until the next morning.

I'd left both bikes at Lydden and used the space in the Van to bring home a few cases of beer that the Ledermanns had bought and brought for me from Belgium. I'd not had the chance to shop while I was at Chimay, so I had them bring 3 cases of Maes, and 1 each of Chimay Blue, Red and Blonde. Unloaded at a secret location and back to Lydden. Some committee business and then down to bike inspection and prep for the day.

Same pattern of races, 2 750cc and 2 unlimited. No lunch break, as planning regulation mean that engines can not be started before 12.30 on a Sunday. so the meeting runs non-stop. I got an early practice as I was able to tell the sob-story about the brake. I had moved the caliper over and re-fitted the HH pads, as I wanted to see what they were like on this bike again. Sundays races were just seven laps instead of 10 and on the last lap it faded. if I had known it was the last lap I would have continued to take the flag, but I hadn't seen the last lap flag and pulled off. I decided that enough was enough and changed back to the Ferodo CP911 pads I had used before. Not as much brake effect, but stable. The fault just may have been overheating, as the BSA is heavy and I am not light either. It only uses a single disc as it is still in 'production class' specification. As this class is no longer offered as a race class I may change it to twin discs. Second unlimited was good and fun, and the next 750cc ride was much better too, and there was no brake fade.

All over the weekend the timings were showing that I was slowly getting faster. Folk that passed me early in the meeting I was now able to catch and pass. A nice controlled slow progression, just what my head needed. The last race was really good, well the first section of it anyway. It had rained 4 races before and the circuit still looked just damp. I thought I'd go and sniff, and if I didn't like the warm-up/sighting laps I'd pull off. All seemed good though and I good a good start and worked my way up to 5th. Then the race was stopped and the transponder sensing loop covering tape had been affected by the rain and was lifting. A full race distance race was restarted and those riders that had been gentle in the first run had discovered that the circuit was OK after all, and I was soon in my customary low mid-field position. However, took that flag and that meant I had had 10 outings (7 races and 3 practice) and was still vertical. A change from my last two meetings (in 2000 and 2001) there!

The Ledermanns had great rides too, two 2nds and 2 3rds. The sidecar races were the only races I watched and they was all really good races. The Ledermanns lead the second one on Saturday for quite a while but Michels arms pumped up and he had to ease off and was passed. He was better in the 7 lap races on Sunday. I supply the 930cc engine in use in this sidecar and it has now done 2.5 full seasons and this year it'll do a half season before I get to inspect it inside. It is behaving satisfactorily.

Nice to see James dR there, and I was able to help him a little when he needed an electric drill. I couldn't help with the eazi-out, but he found that elsewhere.

All in all a wonderful weekend. I drove home feeling on top of the world. Then it was Monday........

Next meeting for me is CRMC Croft in two weeks time, followed at weekly intervals by Spa and Jehonville, both in Belgium. Well, somebody has got to help them drink all that beer.

Next Report

I seem to be making a habit of this because as I write this I am once again on a dockside waiting for a ferry. This time (14.45 on Friday 15th August) it's Dover and that's because I'm off to Belgium to ride at a couple of meetings. But first, I suppose, the story of CRMC Croft. I've learnt a lesson. Don't lend bikes to people to ride at Croft if you need them for events the weekend after............ Yup, both the 'Big-Un' and the BSA took trips down the road. No, I wasn't riding *either* of them at the time they fell over!

Friday at Croft was a little unusual in that the organising club, the CRMC, had taken circuit hire for three days. So Friday was open practice for a while and timed practice in the afternoon. The timed sessions formed part of the race meeting as a three day ACU permit had been taken, and that meant that the Saturday practice sessions could be kept to a minimum, just to cater for those riders that were not able to attend Friday and a certain number that could spin enough of a hard luck story to be issued with a practice pass. There were also heats on Friday for a free of entry fee race, the ACU Centennial (Handicap) Race. I had entered the too late to get a ride in this event, but did get two practice rides on Friday. I was using the BSA, as Alan Walsh was using the 930cc 'Big-Un' for all his rides. Those practice rides were OK, and as I settled to the circuit I got a little quicker, although still quite a bit slower than I had been on previous visits. This seems to be the case everywhere. The joke I use about the 'race' head being damaged and now sitting on to of the 'fridge and only the 'bimble' head being in use seems to be true! Gearing seemed about right and Alan was please with the 'Big-Un' too. He wasn't too sure after his first practice where he spent a lot of time alone but after his second, where he had mixed it with a few people including his son, Simon, he was quite a lot happier. The heats were split into 250 / 350 / 500 / unlimited classes and the times recorded were to be used to set the grid and starting batches for the handicap final, which was to be the first race after the lunch break on Saturday.

Come Saturday the weather was hot and dry once again and a mild headache (after good food and *lots* of beer the night before) soon went away. Alan took one practice I think. I know I got a pass and got out again, because I remember (and for the weekend wasn't allowed to forget) that I promised to bring the race entry secretary some chocolate from Belgium. Two 750cc rides for me, nothing to write home about. Every lap felt better than the one before and in the later race I passed a few folk that had passed me in the first race. Alan only had one unlimited ride booked, and was out in the ACU Centennial before it. He didn't make the grid of the unlimited, as he fell during the ACU race. As can always happen in handicap event there was a *lot* of passing to do, and no spare time. He tried to take two slower riders at the same time on one corner and all three of them wanted the same piece of tarmac at the same time. Alan fell and lightly damaged his shoulder and perhaps a rib. He's OK though. The bike was lightly damaged. Fairing and sticky-out bits on the LH side. Fair scrape on the LH side engine cover and this has required some welding. I wanted to use this particular engine side cover again if I could because when I had assembled the engine I had taken a lot of effort over selecting covers that gave the best possible shaft alignments. It also needed a replacement clutch adjuster cover dome but as I make these (and now CNC from billet instead of from castings) this was no effort. The drivers footrest was snapped and the brake pedal that pivots around it was badly bent. I had a spare of the specially made footrest assembly but had to heat and tweak the foot pedal. The rear brake operating rod was an 'interesting' shape but straightened reasonably well. It looks as if another bike had hit the rear wheel at the spindle near the brake plate, as the plate was badly bent as was the torque arm and part of the wheel location system. I was able to get a suitable brake plate at short notice and straighten all the other bits well enough to make it possible to ride it this and next weekend in Belgium. The fairing had been patched on Sunday at Croft as Alan wanted to 'do' something but it isn't refitted at this moment as I think I can score a new one at Spa, and although the wrong colour it'll look better that the scraped and patched one. These is a small scrape on the 'glass of the seat but the tank escaped totally. The clutch lever and the end of the clip-on took small extra flats, but don't need attention. Although all the major damage was on the left the bike had also been down on the right, as there was dirt and grass around some engine cover screws and the ignition cover was dented. I wonder if a marshal had dropped it on that side as it was being moved. With the back wheel knocked out of alignment and the chain knocked off it had been hard to push along. The rear tyre had been lightly touching the swinging arm until I rectified the alignment.

So, anyway, that one was parked on Saturday and I had just one 750cc ride on Sunday. The ACU handicap had been an interesting and good race as there was always lots of passing action. Mike Hose took a fast 'off' when he went into the first righthander after the start/finish without any front brake. In conversation later we worked out that, as he had suffered a front wheel shake on the previous corner that lap, the caliper pistons had been shaken back into the caliper. Even three pulls on the lever didn't bring him a brake and he overtook the guy he was trying to pass, but no longer sitting on his bike! He was OK though. The conversation showed that he didn't know of the pieces we use within the calipers to stop this happening. AKB springs. Anti-Knock-Back Springs. Available from AP for AP calipers in three different spring rates and we use the softest ones usually. I must learn to keep my mouth shut as I found myself offering him the BSA for the 'National' 750cc championship race to keep his points total good. Phil Davenport, his series rival, had fallen twice in this meeting and wasn't riding so it was Mikes chance to build a lead. I also didn't know that Simon Walsh was looking forward to good points with both Mike and Phil Davenport 'out'. That didn't come to pass because Simon went out in the unlimited and won it, on his 'Haylock' 750, but it suffered some valve damage as it took the flag and took no further part in the meeting. But bike to Mike Hose.
| | |
| --- | --- |
| | |
| BSA after having a mudbath | Fairing in the bin |
Sunday had dawned darker and slightly cooler than Saturday. Sundays at Croft start at 12.30 due to noise restrictions. About 10.30 it got even darker and the heavens fell. Yes, it was the Teeside thunderstorm with a vengeance. I had driven into Darlington to buy a fibreglass kit and on the way back to Croft all the street lights (and my headlights) were on. It had got that dark. Most of the racing was done in the dry but these were a few wet periods too, although no more real storms. The ACU was run just after a shower and conditions seemed reasonable. Mike was in a class 2nd for quite a while then he was demoted into third. He seemed settled and happy but as with most racers that want to go faster and faster. He was visibly quicker each lap as was most of the field. On the penultimate lap the front of the BSA washed away under braking for a righthander. He recovered once but had to brake again and it went down properly. As the grass run-off was very very wet it threw up loads of mud. I haven't enlarged the post-recovery photos yet to see what mud is there. Mike was OK, and rode a few races later. The BSA was less happy. Wrecked fairing, bent fairing bracketry, broken RH clip-on, damaged master cylinder reservoir and lever, damaged (severe scrape really) RH silencer. Seems to be about it. But what with the visual and the BSA being my baby I decided not to attempt any quick repair. I didn't even bring the fairing back to London. It was repaired after my B-O-T-H at Lydden but was far to far gone to repair again. At least getting another is not too much of a problem as I own the mould. First event for me will be CRMC Cadwell Park, middle of September. I should just be able to make that if all goes well. The guy that does my painting is already 'primed' as there will be the handlebar fairing and maybe the seat hump from the 'Big-Un' to do too.

It doesn't help to remember that on Monday of last week my technician, 'Steve', hurt a muscle in his back early morning while dragging the caravan about and by 15.00 he had to go home and wasn't fit to return last week at all. So all the above was down to me, and it was a bit hectic trying to keep a lid on the parts end of business too. The joys of being the guv'nr. So this week I've managed to get enough done to bring the 'Big-Un' to Belgium and I've used the spare van space to bring my Bonneville too. So I've got a road bike here to bring home mid-week if I want to. I'm due to stay with the Ledermanns for the week period but as they are near Brussels I may take a few days back in England by EuroStar. I've brought the caravan with me for comfort at Spa and Jehonville so the ferry costs are quite high and both van and caravan can stay with the Ledermanns if I ride or train back to England.

So, now approaching Calais, so time to pack up for the moment. More will be added later............

10.30 on Sunday now and I'm sitting in my pit garage at Spa Francorchamps. The drive from Calais was easy and as usual boring. Along the coast to Dunkirk and then right and follow the E42. all the way here. About 250 miles on the continent. I had to stop for an hours sleep by the roadside about 50 miles from here as it had become a bit dangerous to continue. Towing as well I limited my speed to 63mph or so. On perfect surfaces the caravan was happy up to 75, but as soon as these was road wear from truck tyres it would start to gently wag if the speed was over 65mph. Finally arrived about 00.10 and the welcome centre was (quite rightly) shut. These was a set aside field for parking so sleep was called for and rapidly taken, after walking into the paddock area to find and use a lavatory and locate the pit garage that I had arranged to share with a friend, Rob Prior. I spotted his car very rapidly so it was plain where I had to head for once I was allowed in in the morning. Folk started to move around about 07.30 and the welcome centre opened then so it was back to there to enter the event. It was a 'Classic' only trackday and although there was no available space in my ideal group, the Period 2 Unlimited, there was space in the Post-Classic class so as I am experienced I was allowed to enter this class. Machine and clothing inspection was rapid but thorough and and very quickly bikes were on the circuit. The unlimited was class three and quite a few customers and friends were riding. I was all prepared for my class five outing so I watched from the pit wall. Walk out of the garage and look right and I'm looking at Eau Rouge, as below. Wonderful, just sums up Spa, really.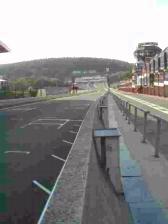 Eau Rouge from the pit lane

I did 2 class five rides and then, because one of my Dutch friends had broken his bike I lent him the 'Big-Un' for his rides. He was entered in class three, so with both pass stickers on the front of the bike we could go out in either group. As he was with friends who all had Tridents in the same class we swapped about. I could ride with and against those fellows (all of whom are customers of mine too) and he could get a ride. I know he has fallen for the performance of the 930cc engine and I hope a few of the other Dutchmen take rides today too, as I can feel that a 930cc ride will make them want one........ Sales! Wonderful! My friends the Ledermanns are here too, with the sidecar. I spent last evening with them and as always they provided and wonderful barbecue meal. A different Dutch friend (and customer) Marten Morren was also having a little gathering too as a friend of his was celebrating his birthday and Rita, his wife, has her birthday today. So more beer and nibbles to lead into the Ledermann feast. All that Belgian beer to drink too, well I suppose somebody has the help them. By 23.00 I was feeling satisfactorily 'relaxed' and rode my pit taxi, my Bonneville, back to the caravan for sleep. I think I can remember my head hitting the pillow, but I'm not sure......

I woke about 06.00 as is my habit these days and about 07.00 folk started moving around. A wash/shave in the garage sink and a quick check over the 'Big-Un' and I was ready for today. The bike was all OK, and both class stickers for today were applied. I was much happier with my riding today. I was taking most corners harder and faster in the first session than at any time yesterday. No bike passed me today and made it stick whereas a few had done so yesterday. I was out in the unlimited classic class though because I'm sure a few of the rapid TZ Yamahas would have done so if I had gone out in group five.

Spa is fantastic. I've got to use such a word as it is far better then my current favourite 'satisfactory' I'll try to describe it in a later e-mail when I've had a chance to put my thoughts in order and I have a circuit map in front of me. The 'Big-Un' is behaving so well. The handling is as always predictable and fine. Now I'm used to the new compound brake pads (EBC HH) the front brake is fantastic. These is some disc wear appearing and that's not too surprising. But, as I make and supply these discs anyway that's not a problem.

Considerably more spectators here today. Many more photographs being taken and I've seen some large TV or quality video cameras around the circuit, so I wonder if there will be any buyable footage. One of the Dutch guys, Michael, has been mounting a video camera on his fuel tank top and been getting some really good footage. He's promised to send me some, and I might see if I can borrow the camera and its foam mount for a session. That would be really cool.

Another break now, as it's nearly time to go out again.

OK, so now it's time for more writing as it's 13.00 local time (UK plus 1) and I'm on a Eurostar train back to Blighty. The rest of Sunday at Spa was equally great. Being in the Ardennes Spa is often wet and we were not disappointed as there was a slight shower during the afternoon. It only rained heavily for a short while after the tracktime was over. I got out for two rides on Robs pass in the class three unlimited Classic and two on my own pass in a class five post-classic. One of the Dutchmen, Michael, rode the 'Big-Un' for the first time. Although he was not as comfortable on it as he was on his own Trident he also thought the engine performance was stunning. So that's another set of the necessary internal parts sold then. Michael also had a video camera that the strapped to his fuel tank for session filming. He, or one of the other Dutchmen, recorded a lot of sessions. I was told that I appeared on the footage on occasions and then disappeared into the distance........ So I asked Michael if I could take the camera on my bike and he thought that that was a good idea. I'd try to get some footage of Rob Prior on one of his 500cc Triumphs and his friend Roy on the other one. [Rob had two there, his E35 Bandit framed special and his 'Percy Tait' replica. This has lead, fuelled by Grolish and Maes, to plans to build a 500cc bike for me. Rob will do all the engine prep and allow me to do the final assembly. I already own a 1972 Daytona road bike engine and we may use this as the base engine. I need to source (and I know where there is one if I can get hold of it) a crankshaft in special steel. I already have the Carrillo connecting rods in stock. Primary drive/clutch pieces are all easy and I recently sourced a load of close-ratio gears in the USA. Some clever but basic valve spring work and the jobs done. For the chassis it'll be a bit of a ringer of the 'Big-Un'. Same colour, tank shape and seat. Same fairing. Same front and rear wheel hubs and brakes, although different wheel sizes and rim widths. I already have the special and rare 'Thruxton' oil tank. I know of a fellow that has some new (old stock, not recently made) frames and swinging arms so the chassis will be built from all new items. So the job is as good as done. (Ha!). [You listening Keef?.....] The camera needed rather more sponge mounting than was ideal and we still couldn't get it high enough to be ideal. But some good footage was got and he has promised me a full copy, perhaps on DVD.

I went to the Ledermanns home on Sunday evening and had decided to travel back to England before next weekends race meeting at Jehonville to keep up to date with work and support my Technician Steve after his injury. There was little point driving back so the caravan has stayed with the Ledemanns and Michel will bring it to Jehonville. He is going on Wednesday to be able to commandeer a suitably large area of the paddock. My van is now in the Brussels station car park and awaits my return by train (or whatever) on Thursday. I had to take a 'tourist' return to get a seat today and this was cheaper than a single! Just don't use the return portion. I may able to change the return date to another and use it at a different time. I'll have to buy another (of some sort) on Thursday or get back to Brussels another way. I do have to get to Dover sometime this week to collect the 'phone I lost (into a Tescos wastepaper bin) and which was found by a local. Once I realised I'd lost it I called (on a public 'phone!) my brother and he got Orange to stop any outgoing calls. As he wasn't the registered owner of the number they wouldn't stop ingoing, but that was OK as he sent it an SMS and the fellow that found it then called him. So I can go and collect it. Whew, vat's 'andy 'arry. So I may plan to go to Dover on Thursday morning by train collect the 'phone, do an 'el cheapo' cruise if any are available and then take another route back to Brussels. I may be able to find a UK rider that is going the Jehonville that has passenger van space and who will drop me off in Brussels. We'll see what the next few days allow me to organise.

I remember starting my post CRMC Lydden report with works like 'How do I write up a report on what was probably the best weekend of my (motorcycling) life. Well, I've just beaten that weekend because the Spa weekend was better. Speaking the Michel before leaving Spa to drive to his place I remember saying that to finish off the weekend to perfection I needed a) An easy drive to his place. b) some beer. c) some food. d) a breathing and willing partner for some 'ladies & gentlemen'. e) some sleep. Well, getting 80% isn't bad.

Next Report

It's now 17.15 on the 21st and I'm back on a Eurostar train heading towards Brussels. Well, it should be Brussels if I got on the right train. One for Paris left just a few minutes before this one. As I write I'm still in England but I'm sure we will be diving down (fnarr) soon. Was it worth coming back to England? Debatable. I was able to collect the silencer for the Ledermanns sidecar and that *was* worthwhile. I was able to get a few orders out of the door, and took one from a new Norwiegen customer for processing next week. In pure takings terms it wasn't worthwhile but once the progress in other areas is taken into account it probably was. I wonder if the Transit is still at the Brussels station car park. I arrive these just after 20.00 local time and it is a drive of about 2 hours to Jehonville. The caravan will be (x'ed fingers) there and waiting for me. On Friday I'll have to spend an hour or two wiping down the 'Big-Un' and servicing it. All should be well though as it had run well at Spa apart from the minor primary drive case oil leak. Depending on the weather conditions and the practice timetable at the meeting I may get a chance to attend to this. I do have all the required parts in the spares kits that are already with the bike. I went down to Dover on Tuesday evening and rescued the 'phone I had lost at Tescos so there may have been some SMS posts to the Ixion list before this main report is posted.

After a few hectic days, driving miles and caravan nights it was bliss to sleep in my own bed again. Tuesday night seemed about 6 minutes long but was 7 hours and that was after a nap I took between 17.30 and 16.15. Wednesday night passed just as fast and I was, according to the clock, asleep for another 7 solid hours. Obviously necessary. I wouldn't expect the next few to be as good, until I'm once again back home on Monday evening. I was really surprised this morning (Thursday) when I woke to find all three of my cats (Solo, Paddy and Mary) asleep in the *same room* as each other. It seems like Paddy is slowly accepting Mary and not being scared of her, her little sister. It may be a help in that Mary is becoming just a little less boisterous as she grows up. I'll miss 'em for sure while I'm away the next few nights.

Next Report

After a 30 minute delay entering the Channel Tunnel the Eurostar was 25 minutes late into Brussels but that didn't matter at all. All I had to was liberate my Transit from the station car park and drive down the E411 to Jehonville. Easy and it took about 100 minutes. The Transit without its caravan load is a real flying machine and most of the time I was cruising at about 90mph. I arrived while folk were still awake and was directed by Michel to the caravan and the parking space he had saved. All perfect and once a couple of beers we downed I was fast asleep for the night. I unloaded the Transit the next morning and set up the bikes and tools/spares kits in the Ledermann camp/awning. Bike and clothing inspection was done after I had paid for my entry into the meeting and done the entry paperwork. In a way it's not a problem that the BSA was not ready as the 750cc and unlimited classes are combined in once race anyway and I would have chosen to ride the 'Big-Un' anyway. Power corrupts.

Two (both timed for race grid position) practice sessions on Friday. I was mid-field in both and now know my grid position. Middle of row 5 (the grid is 3-2-3-2-3-2-3-2 etc, so I was timed as 12th fastest overall. I'd expect that to be about my finishing position too. One race today, Saturday, and one tomorrow. 15.10 today so there is plenty of social time this morning and time to pop out at lunch time to visit the supermarket for beer and chocolate. I was happy with yesterdays practice rides. The second session felt better than the first and I was able to be a little quicker. There are three heavy stops here and the brakes are working well. I need to be pulled into one of them as *every* time I have been there is practice I have felt that I could (with a larger clip on my testicles) have braked much later. But I am still wearing the bimble head of course. Another of the sharp corners I am OK about, it's the long left hander leading to it that I know I could take faster. Perhaps some of this will come as I follow faster riders in the race today. I'll attempt to make a good start and hang on to one or some of the faster guys. If I can't or don't it doesn't matter. See, the gentle head is still fitted and making it's presence known.

Friday night was great. I made a trip into Beartrix to locate the supermarket and made the first beer/fags purchase. I passed some beer to the Ledermann feast as an entry ticket and was told it wasn't required, but it got drunk anyway! Another feast there will be after todays events. There was a birthday party elsewhere in the paddock last night and Michel and I wandered off to that too. I was introduced to a number of people, some of whom knew of my business and the parts I supply. Seems like I sold at least one of my gearbox ratio conversion sets to an rider who was asking my opinion of his gear ratio problems. I printed the ratio chart and blurb sheet from my website (a copy of which sits in the Compac Tablet I'm writing this on) and he has taken it away to digest. I'll be setting the examination later to see if he has absorbed the information correctly. I also took beer with a guy I had met at Spa who is involved with a data acquisition system. Looks good so far and it'll be *very* handy to be able to access the accurate data. Although riders 'seat of the pants' reports are helpful when setting up a bike hard data will be useful too. A bit like dynomometer information, so useful if not set up to tell lies.