JACK SHEMANS - A PROFILE
Jack was born in the middle of the depression of the 1920s, the fourth child of a very large family. His Father, George Shemans, was a lifetime servant of Triumph, beginning as chauffeur to the founder of the Company, Siegfried Bettman, and subsequently racing for the works teams. At this time it was normal for motor sport competitors to take part in a wide range of disciplines and George took part in Grass Racing, ISDT events (winning a Gold), Trials, and even racing on the wooden board tracks of the period. Endurance events were being run at Brooklands and George rode in a 500 miles event at this venue, with no second rider. The Continental Circus came in for George's attentions too, with success. He also rallied Triumph cars, winning the International Alpine Rally in 1934, and rose through the company to hold a number of important positions.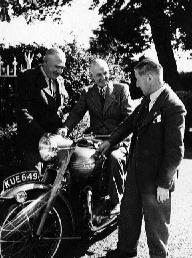 George Shemans with Rem Fowler,
Jack Marshall and the first Triumph
Thunderbird
Please click on the image
for a larger version
On leaving school in 1935 Jack joined the Daimler Co., where he started to learn his craft. He had been chosen by the Daimler company, one of the premier appointments at that time. He had finished at his last school in the top six and a Daimler representative came to the school to raid the best pupils. Jack's first wage was a lowly 8/8d (43p) a week which rose to 9/8d (48p) after 6 months. Daimler were producing Daimler, Lanchester and BSA cars at this time. The lure of a greater wage saw Jack move to Triumph in the car service department in Briton Road, Coventry and then, after a short spell at Armstrong Siddeley, he moved into the aircraft industry at Armstrong Whitworth Aircraft at Bagington. A.W.A. manufactured Whitley and Lancaster bombers. However during the war the the Ministry of Labour was able to enforce workers to move around the country to work in jobs in the interests of national need. Jack was asked to relocate, but he refused and the only other option was to join the Army. His skills were well used as a vehicle mechanic and he was sent by the army to the N.W. London Technical Training College to extend his training and advance to the grade of armament artificer. This was cut short and Jack was sent to a Combined Operations Unit in North Africa. This unit, No. 3 Naval Bombardment Unit, was often behind Axis lines, directing fire from naval vessels. Jack's inventiveness and resourcefulness was stretched to the limits keeping the unit's vehicles in operative condition. Further service in Italy, France and then in the Far East, in India and Malaya, saw Jack's service completed. After demob Jack rejoined A.W.A under the right to re-employment scheme but there was no suitable work for him there and Jack found himself giving driving lessons to the family Doctor's daughter. One day in 1947, while giving instruction, he happened to pass the recently built Triumph factory at Meriden and fate made him stop and ask the gate staff if there were any vacancies. Although his father was still employed by "The Triumph" Jack did not want him to pull any strings, and on his own record Jack joined the company as a skilled fitter employed specifically for the Spring Wheel development project, moving on to production of this item. Jack was moved onto the engine production line and then a demand for skills brought about a move into the experimental department, at this time under the control of Frank Baker. The work of the experimental department included work on the Tigress and Tina scooters, so not all the work here was glamorous.
A short while after Jack's appointment Arthur Jakeman arrived in the department, and the team continued to strengthen with the arrival of Doug Hele. The company frowned on racing at this time, and any racing work that Doug Hele wanted to carry out had to be done behind the scenes. An early project was to develop the 500cc T100 (C-range) engine for racing, for Percy Tait to ride. Percy had many successes, including second to Agostini on the mighty M.V. at the Belgian G.P. at a race average speed of 116 m.p.h.! Jack also built the 500cc engines for Daytona which won twice, in 1966 and 1967. He also built many Bonneville engines including the famous "Thruxtons" which won many races. Included in these is the engine used by Malcolm Uphill for his famous 100 m.p.h. production lap.
Jack Shemans, Authur Jakeman,
Doug Hele and Les Williams.
Meriden Dynomometer Test Bed.
1967

Jack Shemans and BSA Rocket 3.
Meriden Dynomometer Test Bed.
1971

Please click on either image for a larger version
He then started working on the Triple engines eventually boosting the power output from the original 58 b.h.p. to around the 85 b.h.p. mark and most Triple owners know of the successes of these engines. Among other things he helped to develop the velocity stacks which virtually made standard concentric carbs into racing carbs. These were nicknamed "Shemozzles" by Doug Hele. Jack also was involved with a lot of other development work including the O.H.C. Bandit.
When the Meriden works closed Jack, along with a small number of experimental people, went to N.V.T. at Kitts Green. There he worked on a number of other projects such as a two-up and one-down triple engine, a twin engine with an additional balance cylinder at the front, a triple engine in a Norton Isolastic frame, an eight valve Norton engine and many other things. He also built the 4-cylinder "Quadrant" engine from two triple engines. This was an "off the cuff" exercise with no official drawings and was never intended to be produced in that form.
When Kitts Green too was closed Jack joined Norman Hyde with whom he had worked for a number of years building both road and race engines. This arrangement started with Jack working from his own workshop and then, as Norman Hyde expanded into business premises at Warwick, Jack started to commute to work once again. Jack's input and ideas helped to develop many of the products which made this business successful. However, eventually, Jack parted company with Norman and continued building engines on his own for a number of years until an injury and a period of ill health caused him to retire. He now spends his time carving birds and animals, gardening and thinking about the "good old days".
Jack Shemans and Steve Brown
Thruxton. 1972

Jack Shemans
Home Workshop. 1993

Please click on either image for a larger version
On a personal note I know that Jack, who has always been quite a private person, maintains a deep interest in the slow continuing development of these old engines and he still follows from a distance the use of Tridents in competition. I occasionally run ideas past him, for his thoughts, and I was proud to be able to act as a parts supplier to him during his last period of self employment. A Gentleman of the very best Old School. We should all be grateful.
Author and © P. M. Pick, May 1997
Images © Jack Shemans.


---
To return to the current first page please use this link
To return to the Index, Articles please use this link
---
Triple Cycles
95 Wanstead Park Road
Ilford
Essex
IG1 3TH
England
Telephone: +44 20 8215 4583 (answerphone only, unless by arrangement)
Facsimile: +44 20 3137 2295
P.M.Pick@triples.co.uk


Copyright © 2000 Philip Pick
Version 0.15 Date January 2001